It all began when I found the corn husk wrappers at the local grocery store. A year later, I decided to stop talking about making tamales and actually make them. The fact that I lived two blocks from a Hispanic market for ten years yet never attempted to make tamales until I moved to Pennsylvania where there is barely a Hispanic isle in the grocery store is laughable. I guess I just enjoy the challenge. After finding the corn husk wrappers I began a search for masa. Honestly, I had no ideas tamales required masa until I looked up a recipe. Finding masa was a bit of a challenge. I searched high and low on the grocery store isles only to come up empty handed. And then there it was, a bright orange bag with a smiling corn stalk. I picked it up and gave it a little hug. My tamale adventure could begin. At home, I read and re-read the instructions from
Son of the South
making sure I knew exactly what to do and when to do it. Then I gathered my supplies.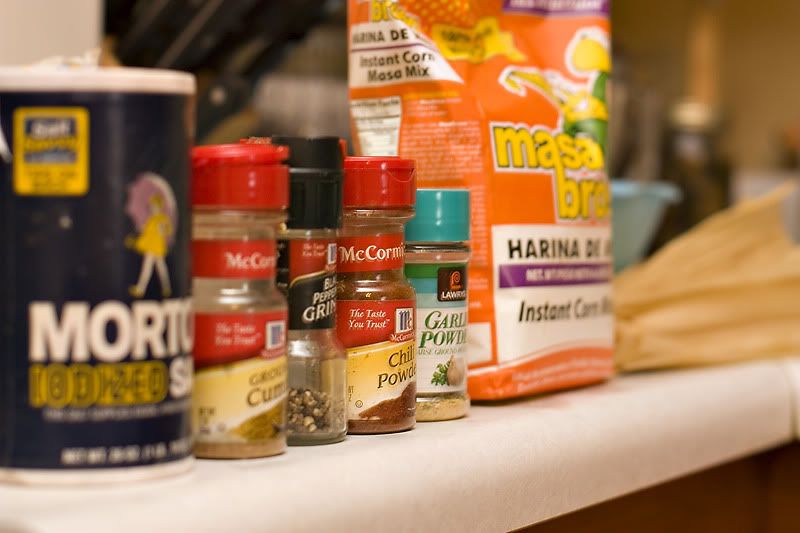 Salt, cumin, pepper, chili powder, garlic powder, masa, corn husks, and one whole chicken. The recipe calls for pork and chicken, but I stuck with just the chicken this time.
And to steam my lovely tamales I used my handy dandy and way-to-expensive
Carico
steamer.
Ages ago when Mr. Jackson and I were just newly engaged we attended a Carico cookware presentation with a group of other newly engaged couples. The presenter wowed us with amazing culinary magic and promised us a lifetime of healthy cooking along with an all expense paid trip to the Bahamas if we made a minimum purchase of the 10pc gourmet cookware set. High on the smell of warm stainless steel, I was the first one in line! I won't embarrass myself by telling you exactly how much we spent on our ten piece cookware set, but I will tel you that it was split up in to multiple (were talking years) monthly payments of only $69.99. We hadn't even finished paying for the set by the time we celebrated our one year anniversary! Needless to say, David still laughs at me to this day! And anytime I pull out one of my lovely Carico pots or pans, he calculates how many more uses we have left in order to get back our investment. If you ask me, the simple fact that I was able to steam tamales in this hunk of steel makes it all worth it!
Back to the tamale making. Once I cooked, shredded, and seasoned the chicken, prepared the masa, and soaked the corn husk I was ready to build my first tamale!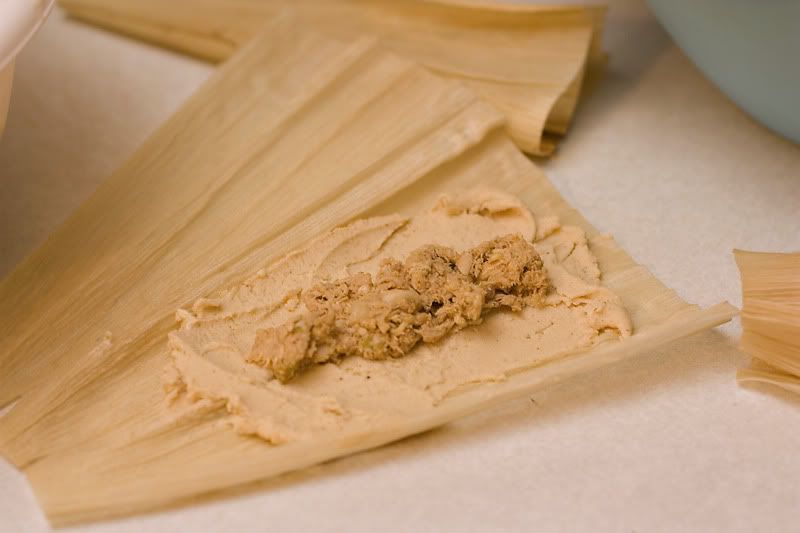 First I laid the wrapper out, then I spread on the masa, (This is where it got a little tricky. I wasn't sure how much masa was too much, and being consistent from tamale to tamale proved to be a challenge.) then I spooned in the chicken. Finally I rolled it all up and folded the end.
After thirty more times of spreading massa, spooning in chicken, and rolling up the corn husk my little (but embarrassingly expensive) steamer was full of tamale goodness!

I put the lid on filled the bottom half full of water, set the temp on high until the water boiled, and then put it to low. Two hours later, the first batch was cooked and the second batch went in. If I'd sprung for the delux 32 piece Carico set, maybe I'd have gotten a larger steamer!? Of course I'd probably be single. David does have his limits.

The end result was tamale goodness. I like to dollop a little sour cream and salsa on mine. This did take a full day of work, but the end result was forty tamales which is more than enough to feed my family, your family, the neighbors and still have some tamales left over to put in the freezer!